December 2020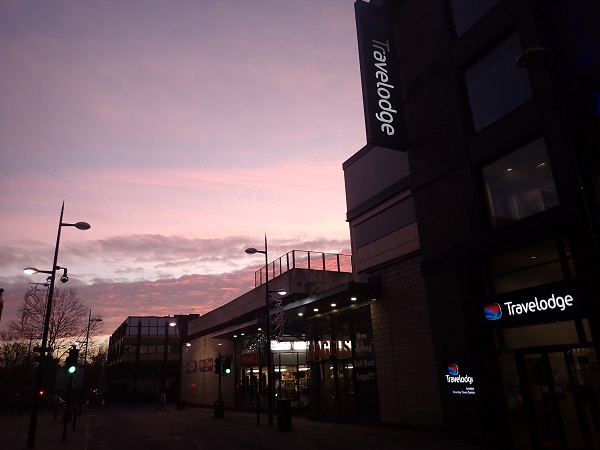 TRAVELODGE AND THE ABC OF 2020
The Travelodge CVA, approved on 19 th June, in which all 564 hotels within the Travelodge UK estate were categorised by the operator as 'A', 'B' or 'C', provided NJBHLP with a busy workstream across the summer.
In a nutshell, the effects for owners of these ABC gradings were: for 'A' (terms effectively 'as now'), 'B' (reduced rents to landlords during 2020 and 2021) and 'C' (nil rents for the same compromised period). The vast majority of hotels received a 'B' grading, which gave landlord owners a period of five months (until 18 th November), to decide whether to remain with Travelodge or to serve a Notice to Vacate. In turn, this opened a window for alternative operators, both established hoteliers and 'newcos', to step forward with their leasing or management proposals and their new or replacement flags, for consideration. A good number did so.
Fast forward to the end of November and Travelodge announced that some 17 hotels, totalling around 3000 bedrooms, would be leaving; during the CVA period, NJBHLP worked with landlords of a different but coincidental total of 17 hotels and 3000 bedrooms, in appraising the alternatives.
This was really interesting work, covering about 3% of the Travelodge estate. Established, serious and credible operators put forward a mixture of fixed and turnover leases, hybrids and management contracts, some backed by international franchisors. Travelodge meanwhile issued information packs, Q&As and even a streamed landlords call, all presenting the benefits of remaining. NJBHLP research and advice extended across institutional investor, local authority and property company clients, with assets as far afield as central Scotland and Wales, the east coast and the London commuter belt, with inspections nationwide (when permitted to travel).
The 'B' outcome is that Travelodge has retained its substantial estate, although perhaps the most interesting development so far is the launch of Ago Hotels (www.agohotels.co.uk), a new operator starting out with an initial nine hotels from Travelodge, backed by Accor for rebranding to Ibis Budget – the dawn shown is a December morning outside the Bromley Town Centre hotel.
The ABC deliberation will also continue into the new year, for landlord owners of the 37 Travelodge hotels categorised as 'C' have a longer period, until the end of 2021, to make the same stay or go decision. More regarding these in due course.
Nick Barber
07796 278720
nick@njbhlp.co.uk
March 2020
NJBHLP CORONOVIRUS UPDATE
What a month! One plan for 2020 was (is?) to try and improve at fell running, at which my experience is limited, my excuse being that I live in Kent. In week one of March, I was particularly pleased that, having entered the category 'A', Black Combe Fell Race in the Lake District, along came a dovetail inspection of a really interesting hotel in Liverpool, with a unique and highly successful leisure offer. It is great when business and leisure trips work together like this; and through the mists of the SW corner of the Lakes I viewed my time of 1:59:16 as comfortably within an 'under two hours' target!
Week two and Coronavirus awareness is beginning to increase, but no apparent change to active or pipeline hotels business and much of sport is still operating. On the Saturday morning I was one of 570 in the Bromley Parkrun and in the afternoon, as I like to support my hometown (Chelmsford) football club, in local matches at least, a short trip to Dartford. There is now a lot in the press about the parlous state of sports teams' finances and I wonder how many will survive Coronavirus? Chelmsford City FC are actually very experienced in survival, for it is nearly 50 years since a well- known residential developer - later knighted - got on to the Board, so the splendid town (now city) centre ground has long gone and the club has never really recovered financially. But is still playing. I believe that the old Dartford FC venue also fell victim to a property developer, but there the local Council built a fine new stadium and they look a well-run club, so it is pleasing that this is a place where 'Chelmo' always seem to do well. Dartford win 3-0.
The third week is when it begins to bite. The core of NJBHLP business is transactional, whether hotel investments or trading businesses, and all reacted abruptly. I have one acquisitions case where each principal is a regional hotel group, and both concluded very quickly that survival of their existing owned estates must be the priority, so we agreed to put everything 'on hold'. The goodwill and the intent are there; it will depend on where the parties are when the hotel and the lending markets re-open. The one positive in this week was the call asking if I knew of any hoteliers who might want to contract beds with Government providers, most notably for the NHS? I did as much work as I could on this, putting parties together.
Week four and I am home, adjusting. I am grateful that a couple of consultancy assignments are still running. On the Thursday I learn that I am one of over a million people today left out of HMG support provisions, which I had understood were being implemented precisely because of the requirement to stay home. Of course there are many, many others in situations more challenged than mine, but it was the sheer hypocrisy of the Chancellor that incensed me, and I think, therefore, it worth pasting his very words, spoken just prior to the 'shut-out', here: "To you, I say this: You have not been forgotten. We will not let you behind. We are all in this together".
Going forward, NJBHLP is still open, for phone and desktop business; if I can help you I will, and on a goodwill basis where appropriate, so do please continue to contact me at any time. Two hotel acquisition searches, currently mothballed, but which I expect to be active as soon as we can travel again, are in Brighton & Hove and Snowdonia, so if you know or hear of anything relevant, please get in touch.
Best wishes to all; more hopefully to follow.
Nick Barber
07796 278720
nick@njbhlp.co.uk
January 2020
2019 END OF TERM HOTELS REPORT
Hotels snippets for end of year are published slightly early in 2019, ahead of the election.
Planning applications and permissions granted continue to fill a substantial proportion of my daily hotel 'newswire'. This is unsurprising statistically, with a substantial UK development pipeline of around 235,000 bedrooms, a prospective addition of one third to present day stock.
But on an individual basis, the ability for a hotel development to 'stack up' is becoming ever harder, particularly as build costs increase. Taking a traditional leasehold budget hotel as a model, it is now difficult to see a rent of below £5000 per bedroom working, which itself can be hard to achieve outside major towns & cities and the south east, without additional 'support'. Maybe public sector involvement or mixed-use schemes with a hotel element? Former department stores seem in vogue in 2019 in this regard. Or developers and investors able to find a means of taking on the operational risk of a branded management contract or franchise? Hotel pricing also has extremes. At the corporate top end a ground rental 'layer' may now be deemed necessary just to make a deal work; elsewhere, 'second hand' bedrooms can be far cheaper to buy than new build. Overall, however, demand for good hotel assets with core property fundamentals remains strong.
Most amusing story of the year was the Travelodge survey telling us that five nights per month away from home (in a Travelodge presumably) is the ideal number to sustain a happy marriage. I noted there was no comment from the publishers concerning sleeper ratios in the context of room occupancy.
Something may be working here, however, for Travelodge reported a 78.5% occupancy in its results for the calendar year 2018, surpassing Premier Inn at 77.9% in the Whitbread year to February 2019.
Despite such robust numbers and continuing investor demand, transactions have been hard work in 2019, in a far less liquid market than earlier 'teen' years. Undoubtedly this has been exacerbated following the Grenfell tragedy and hotels with cladding are now understandably subject to the most detailed scrutiny, with many simply not acceptable to institutions. Expect this month's hotel fire in Brentford to maintain such focus.
On a personal note, and with all this market created free time, I completed three marathons in 2019, where better training resulted in an improved performance in each. In the second, the Arctic Circle's 'Midnight Sun Marathon', which started at 8.30pm on a Saturday night in June, I achieved the dubious distinction of being the first finisher to take two days to complete the course! I also find running round town centres and locations visited on business helpful for 'hotels knowledge', in pursuance of the NJBHLP mantra, 'corporate hotel property advice, UK nationwide'.
So best feet forward and good wishes for New Year and a new decade.
Nick Barber
07796 278720
nick@njbhlp.co.uk
July 2019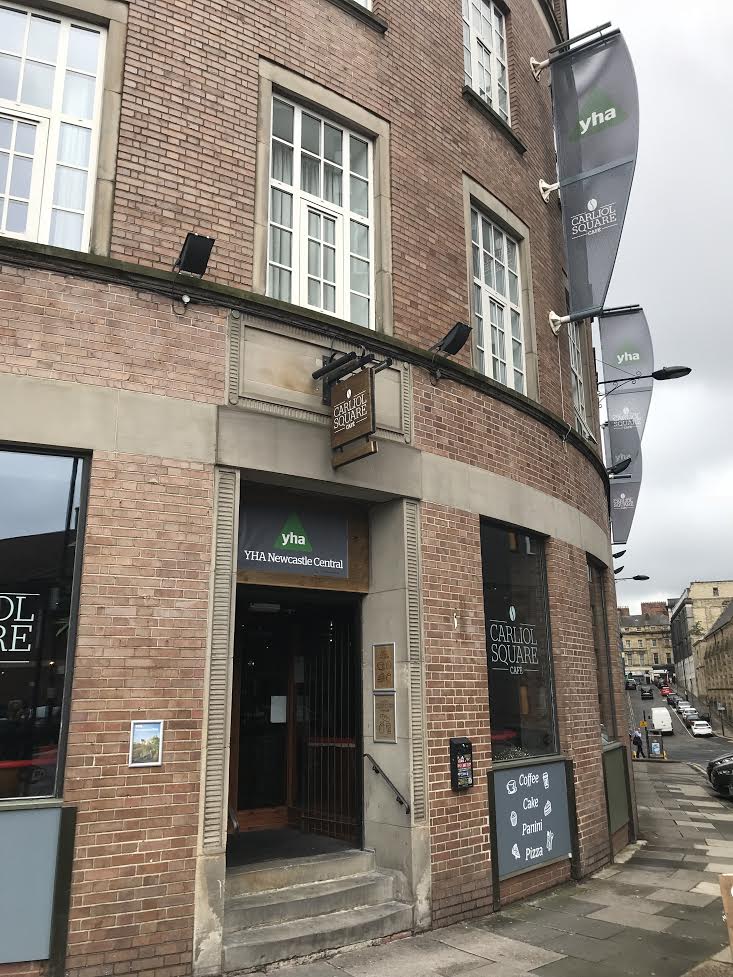 YHA branding at the new 'YHA Newcastle Central', July 2019
YHA NEWCASTLE CENTRAL, NEWCASTLE UPON TYNE, NE1 6UQ
The acquisition by YHA of the 236 bed former Euro Hostel in July 2019 – immediately re-branded 'YHA Newcastle Central' (see photo) - closes (finally!) a search requirement for Newcastle upon Tyne that began with NJBHLP in 2012. Prior to that YHA had offered a youth hostel in Newcastle in various premises and at different times dating back to the 1960s, most recently a former hotel in the Jesmond area, but never a permanent hostel in the central city.
Our Newcastle search upon YHA's behalf encountered frustrations, most notably in 2013 when, under contract to buy a hotel near Quayside and with planning for change of use obtained, an Administrator chose to sell the business to another party, but without telling us! (We are used to sleights of hand, we were not aware such non-disclosure was legal; fortunately none of us have encountered such action before or since).
But all ends well in 2019, for YHA was also able to acquire another business from within the same Euro Hostels portfolio, adding a second hostel in Liverpool (now 'YHA Liverpool Central'), thereby increasing the charity's groups offer by 480 bed spaces in these two vibrant northern cities.
June 2019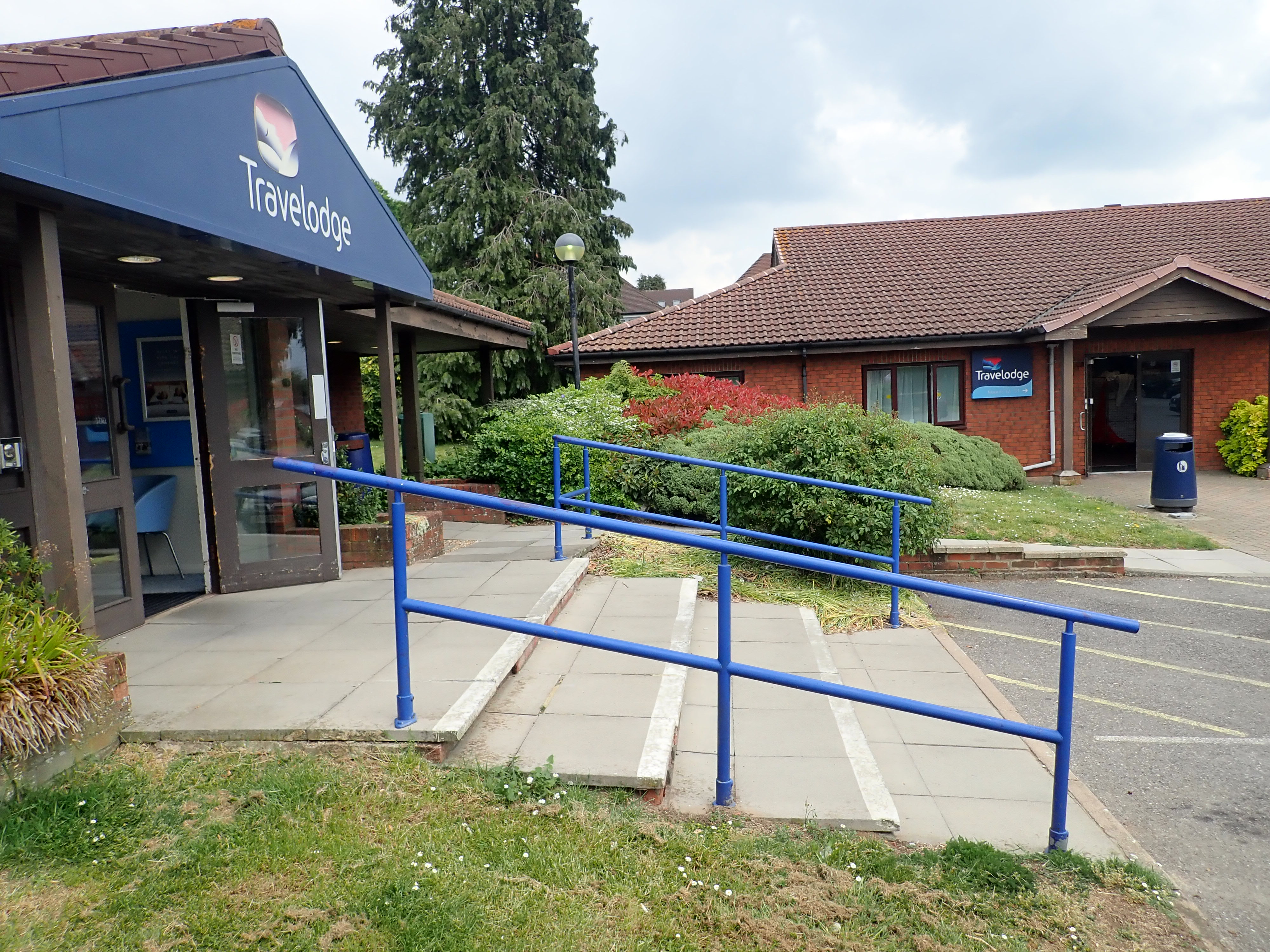 Travelodge Alton Four Marks (2 buildings)
TRAVELODGE ALTON FOUR MARKS, HAMPSHIRE, GU34 5HY
NJBHLP has acted jointly with agent HSM in providing acquisition advice to Martin's Properties, buyer of a well located 50 bedroom Travelodge hotel.
Comments Nick Barber of NJBHLP: "This hotel has unusual criteria for a 'roadside' Travelodge. Located in an affluent Hampshire village, that is almost an urban location, with residential properties and chimney pots all around, but with frontage also to the A31 (Hog's Back) trunk road that links Guildford with Winchester. At inspection the Manger told us that this hotel is 'always busy'.
Martin's Properties acquired Travelodge Alton Four Marks in June 2019 off a guide price of £3.3 million; Coffer Corporate Leisure advised the vendor.
April 2019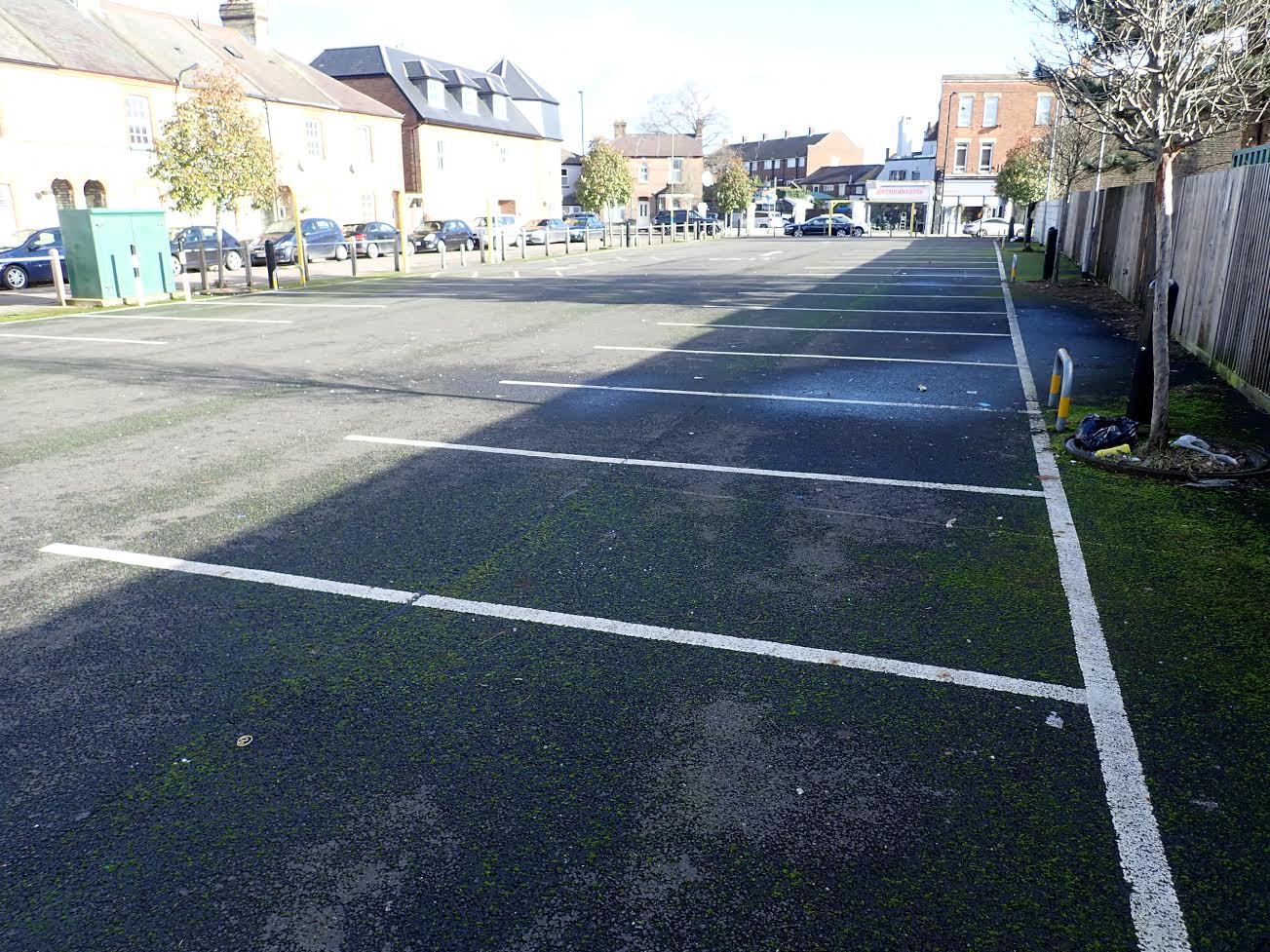 Car park site for Premier Inn Barnet
NEW 'PREMIER INN LONDON BARNET'
EN5 4LP
The first corporate hotel in Barnet town centre is due to open in 2020, with the arrival of a 100 bedroom Premier Inn, being built on the site of the former Chipping Close car park, fronting St Albans Road. The development has been forward funded by a client of Aberdeen Standard Investments, in an off-market acquisition advised by Sheridan Property Consultants and NJB Hotels & Leisure Property. Off the guide pricing indicators of £14 million capital value and total rental of around £600,000 per annum, the transaction shows net initial yield of around 4%.
Comments Nick Barber of NJBHLP, "This new Premier Inn will occupy a really prime location, right at the heart of Barnet town centre, by The Spires Shopping Centre, with the Great North Road running past and direct access from front door to the A1/M25 junction 23. The hotel comes with an in-house restaurant and exclusive parking, and we expect the whole operation to trade very well".
The market town of 'Barnet', some 10 miles north west of central London, is also known by its longer titles of 'Chipping Barnet' and 'High Barnet', the latter also the name of the local London underground Northern Line terminus.
February 2019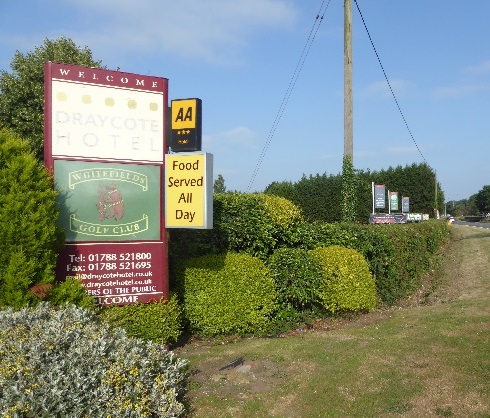 Draycote Hotel & Whitefields Golf Course
Off-market Business Acquisition of Draycote Hotel & Whitefields Golf Course, near Rugby CV23 9LF
NJBHLP has acted as acquisition advisor to the NewCo owner of the 50 bedroom, three star Draycote Hotel, which changed hands in February 2019 in an off-market transaction.
The property enjoys a prominent roadside location, shown in photo, adjacent the A45 trunk road, linking J17 of the M1 motorway, with Coventry and Birmingham, close to Rugby town centre. The full-service hotel includes restaurant, bar and five function suites; the 130 acre site is also home to the 18 hole par 71 championship Whitefields Golf Course, incorporating its own golfers complex and bar.
Commented Nick Barber of NJBHLP, "It is quite unusual nowadays to find such a multi-faceted corporate business, yet still offering new owners the opportunities either to personalise or to add a brand. With golfing members and societies to consider and healthy forward function bookings for Draycote Hotel, this quietly conducted transaction was the right deal for all parties".
January 2019
SNAPSHOT OF 2018
2018 saw NJBHLP offering its 'corporate hotel property advice, UK nationwide', into a seventh year, from Gosforth to Gillingham and Scarborough to Swindon, extending to Humberside and Ipswich in the east, Exeter and Worcester to the west, with diverse London area projects in Camden, Dagenham, Kingston, and others elsewhere. Many projects were confidential; where permitted there are mentions in the News Archive.
Aggregate UK provincial hotel occupancy held at 76% (source PWC), whilst the country's largest hotel brand, Premier Inn, advised an estate wide 80% within the Whitbread interim results. It is generally reported that UK hotel trading was steady in 2018.
Meanwhile, my running enjoyed a largely injury free renaissance, with a first marathon in two and a half years completed in Chelmsford in October, preceded by two 'halfs' and two tough northern fell races, within an enjoyable training programme. A place in London 2019 beckons at the end of April, albeit there is a 'hamstring' to deal with.
Again, best feet forward and wishes to all for 2019.
Nick Barber
07796 278720
nick@njbhlp.co.uk
October 2018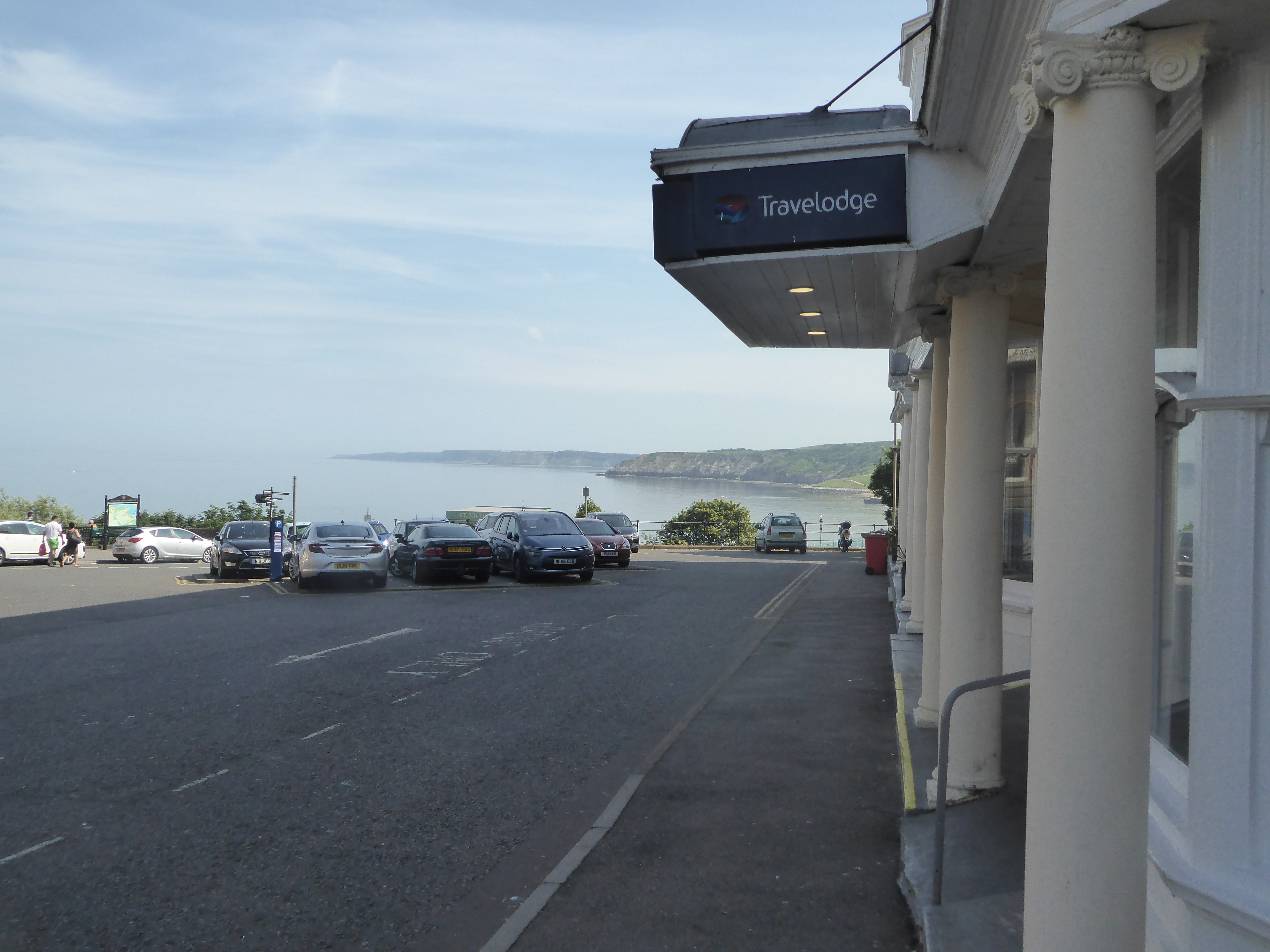 Scarborough's South Bay viewed from Travelodge
TRAVELODGE SCARBOROUGH ST NICHOLAS, YO11 2EU
Scarborough Borough Council purchases Travelodge Hotel investment
Scarborough Borough Council has purchased the Travelodge Hotel building in central Scarborough in line with their policy to acquire high quality commercial property investments, particularly in their local area.
The 140 bedroom hotel is in a prime hotel location on St Nicholas Cliff, above the town's South Bay. It is let to Travelodge for an unexpired term of almost 30 years, with 5 yearly rent reviews linked to uncapped movements in RPI. Following the September 2018 rent review the purchase is expected to show a net return of close to 6%.
Richard Bradley, Scarborough Borough Council Commercial Director said: "This is our first major investment since adopting our Commercial Property Investment Strategy earlier in the year. The strategy focuses on acquiring commercial property investments that can result in positive financial returns for the council to help support our public service delivery. The purchase of the Travelodge Hotel building was an ideal opportunity for us and we will continue to seek other investment opportunities going forward."
The vendor was a private client of Lewis & Partners and Knight Frank. Scarborough Borough Council was advised by Edgerley Simpson Howe and NJB Hotels & Leisure Property.
August 2018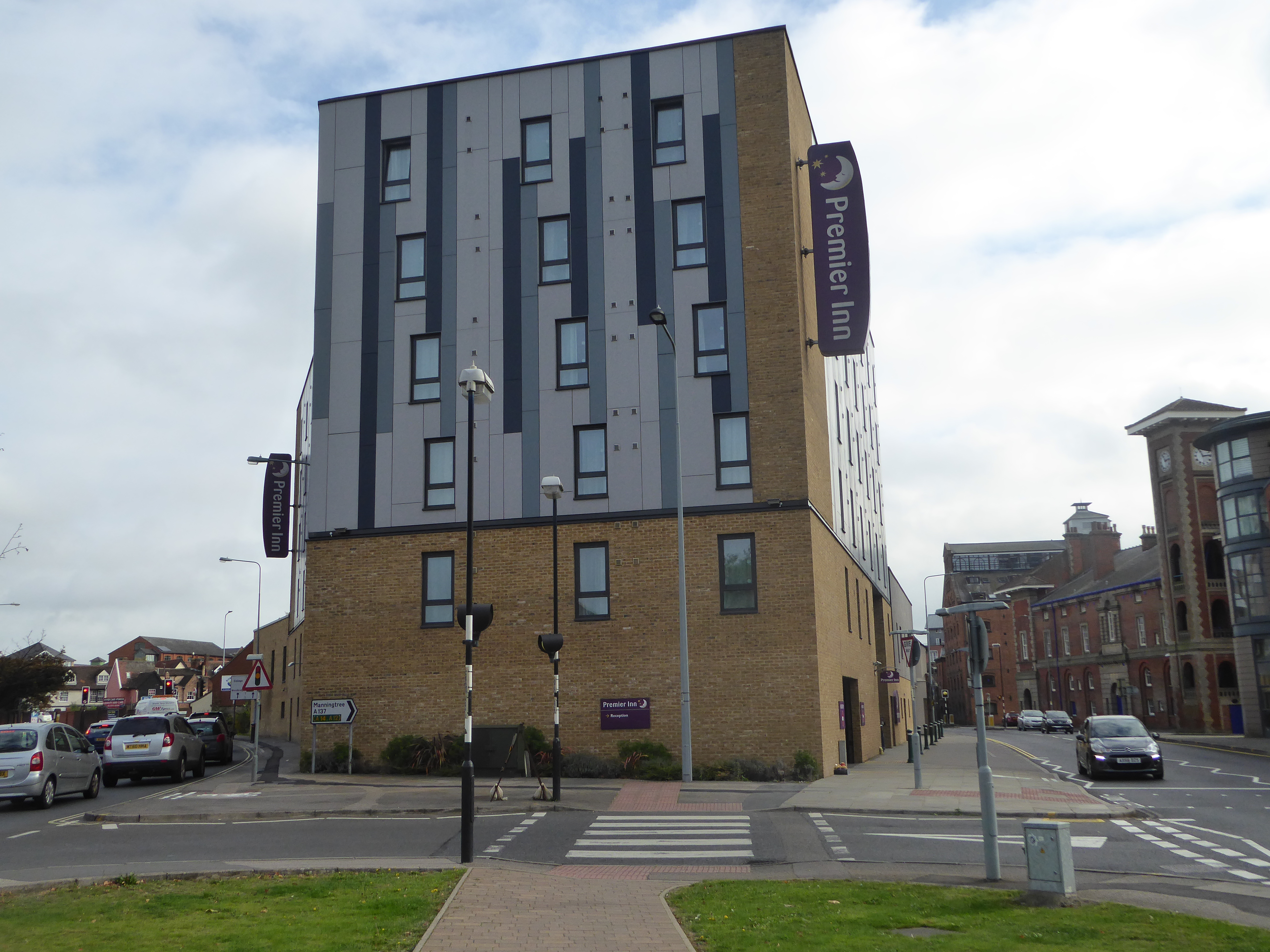 Premier Inn Ipswich Town Centre Quayside
OFF-MARKET HOTEL INVESTMENT ACQUISITION
PREMIER INN IPSWICH TOWN CENTRE QUAYSIDE, IP4 1BZ
KFIM's Long Income Property Unit Trust, advised by NJBHLP, has completed its acquisition of this Ipswich Premier Inn, following detailed due diligence, in a transaction conducted totally off-market.
The key central town location (in Key Street!) of this modern, purpose built Premier Inn hotel, is identified in its name, as the closest budget hotel to the 'town centre', but a few steps to the Ipswich 'quayside' waterfront at Neptune Marina, a vibrant business, education and leisure destination alongside a working port. Premier Inn Quayside has 85 bedrooms, a Thyme restaurant in-house, two dedicated car parks and the potential to extend. The hotel is also very prominently sited.
Nick Barber of NJBHLP, who acted for KFIM, described the hotel as being 'a great addition', with the Premier Inn covenant being 'much sought after by long income funds', adding, "We were delighted to source such an acquisition off-market and to be afforded fair opportunity by the vendor's team to complete our research". The sellers, Barings, were advised by JLL.
June 2018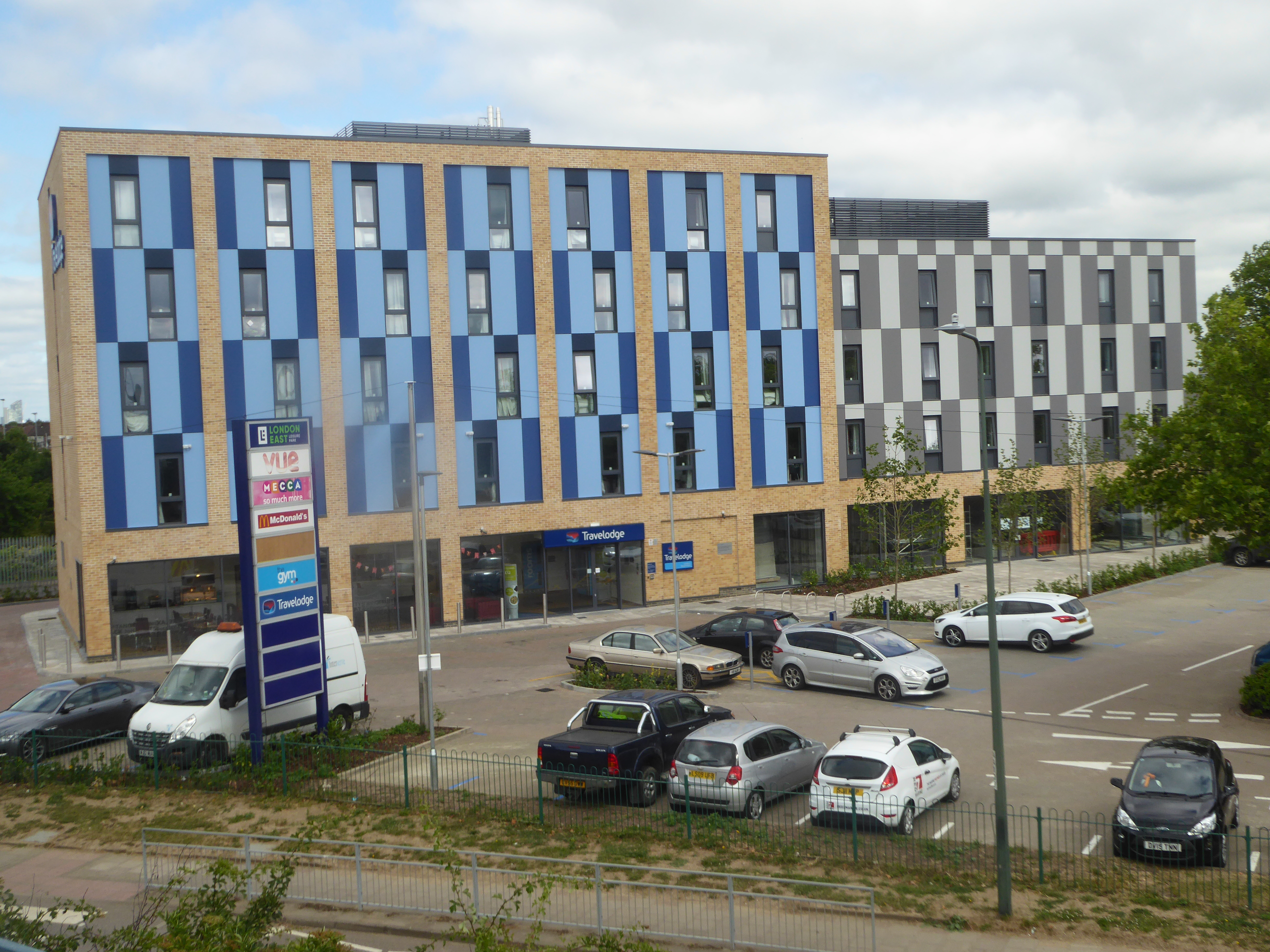 Travelodge Dagenham
TRAVELODGE LONDON DAGENHAM, RM9 6UQ
NJBHLP has acted as joint advisor with ADS to pension fund manager KFIM in the acquisition of the brand new 'Travelodge London Dagenham', constructed in a highly prominent position adjacent the A13 trunk road, which runs parallel with the north side of the River Thames, linking London with the M25 and Dartford Crossing, and on to Southend-on-Sea. The hotel, which includes its own bar café and dedicated parking, sits within the London East Leisure Park, where other occupiers include Vue Cinema, Hollywood Bowl and Gym Group. The investment was acquired off a guide price in the region of 5%.
Newly opened in May 2018 with 77 rooms, Travelodge Dagenham is immediately being expanded to 82 bedrooms, by extension in to adjacent retail space on the ground floor.
January 2018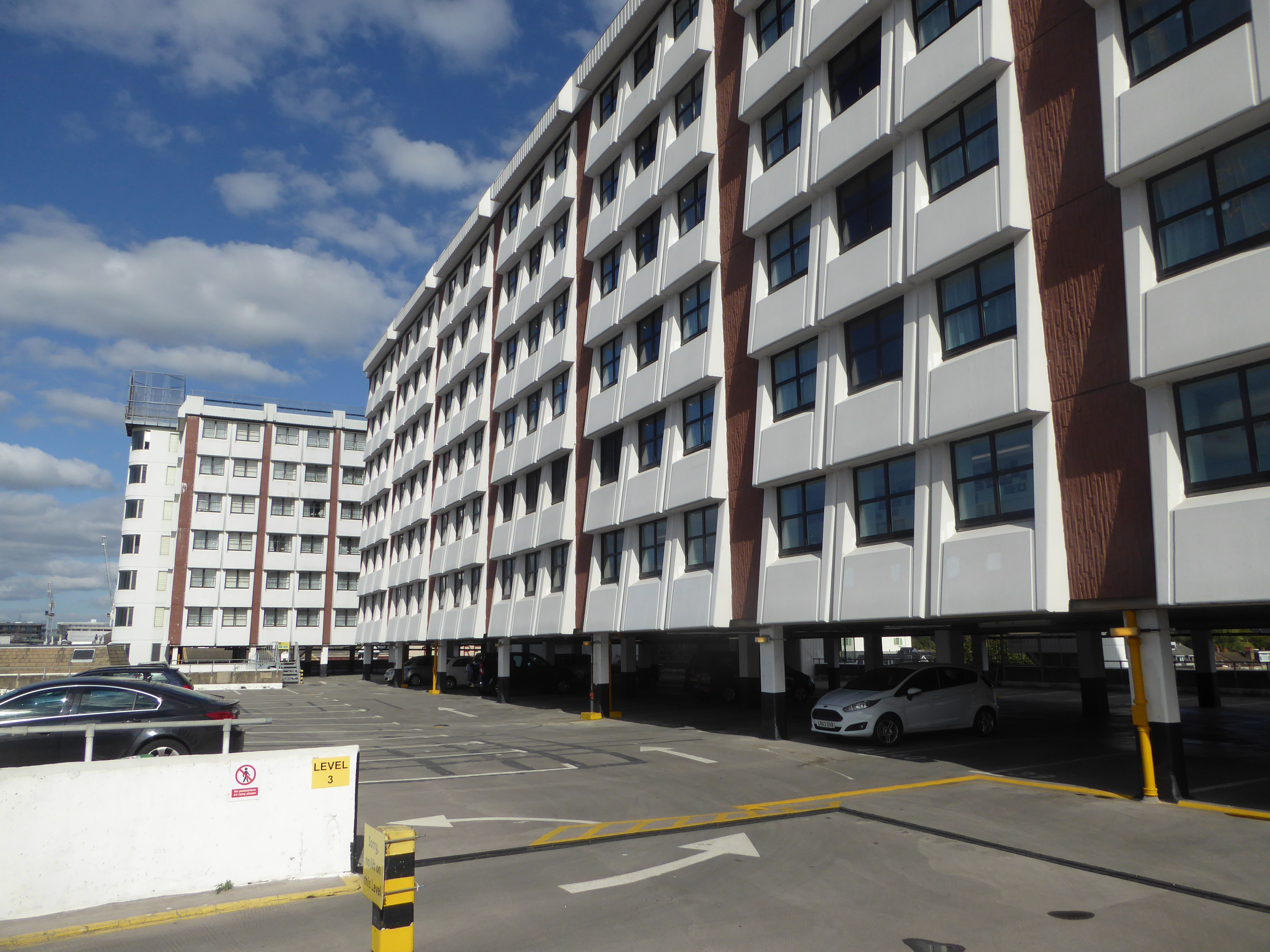 Premier Inn in foreground, Travelodge to rear and left
KINGSTON DUO ACQUISITIONS CONSULTANCY
DTZ Investors, fund manager of the National Grid UK Pension Scheme, has completed on the purchase of Combined and International House, Kingston upon Thames.
The asset includes two 10 storey buildings and a shopping mall comprising 144,200 sq ft of hotel and retail accommodation plus a 366-space multi-storey car park. The two hotels are let to Premier Inn and Travelodge, with retail units let to Argos, Poundland and Aldi. The car park is leased to NCP.
The acquisition provides the Fund with a well-diversified income stream, with c.55% of the income being derived from the two hotels, 35% from the retail units and 10% from the car park. Peter O'Gorman, Fund Manager at DTZ Investors commented, "This asset will deliver a sustainable income stream, whilst providing good growth potential at minimal risk".
NJBHLP was instructed as a consultant by DTZ Investors, advising on the 'Premier Inn London Kingston upon Thames' and 'Travelodge Kingston upon Thames Central' elements.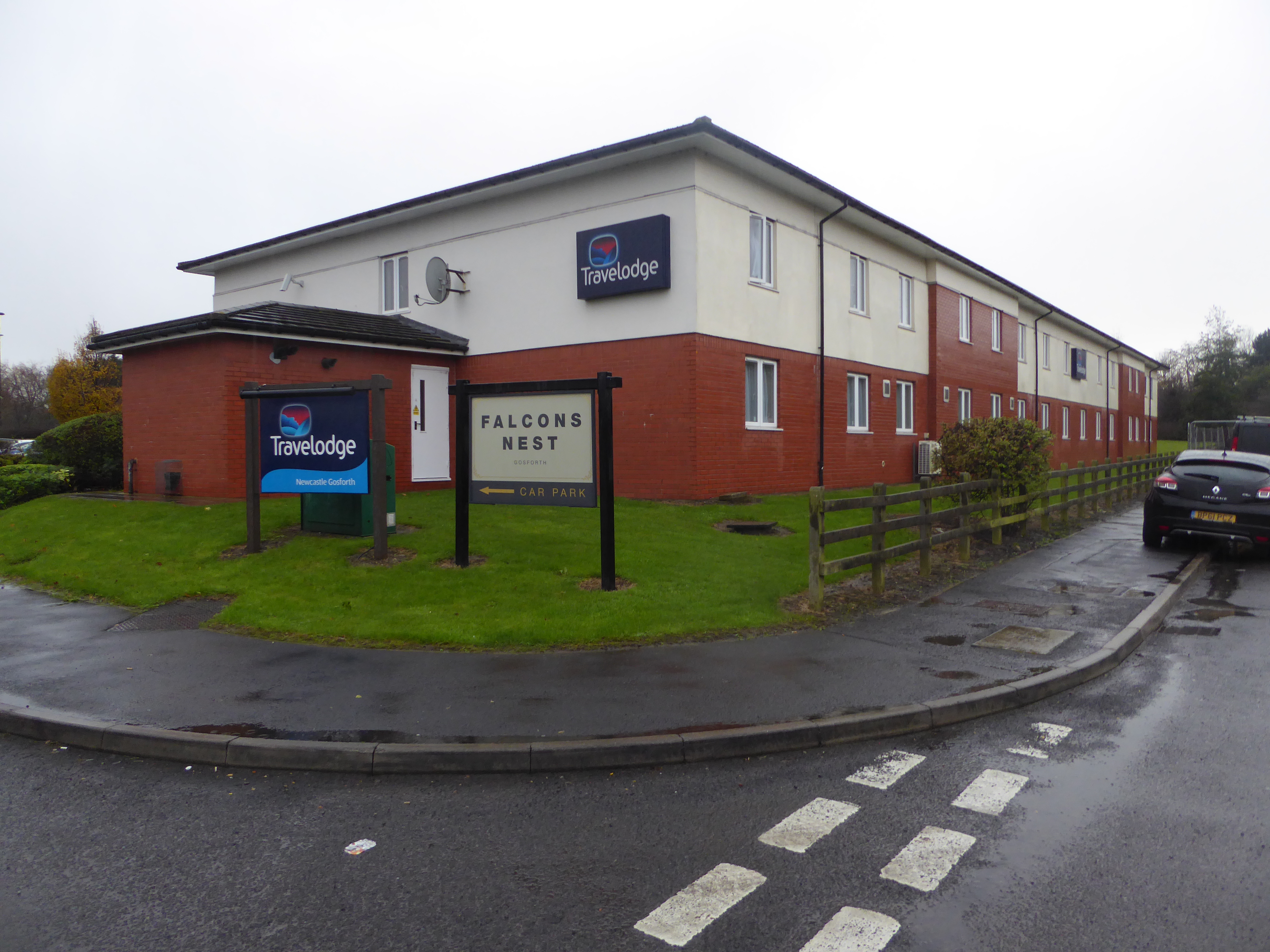 Travelodge Gosforth
CORDATUS ACQUIRES GOSFORTH TRAVELODGE HOTEL IN £4.7M DEAL
LONDON, 25 January 2018 – Cordatus Property Trust ("CPT") has acquired a 53-bedroom Travelodge Hotel in Gosforth, Newcastle upon Tyne as its latest addition to the fund in an off-market purchase. Cordatus purchased the hotel at Rotary Way, Gosforth, from Compass Estate Co (a private syndicate) paying £4,650,000. The price reflects a net initial yield of approximately 5.25%.
In line with its development of a balanced portfolio spanning freehold/leasehold assets and locations right across the UK, Cordatus has acquired the long leasehold on the Gosforth site which is let to Travelodge on a 25-year lease with RPI linked rent reviews, and trades as a successful hotel under the brand's management.
Ereira Mendoza and NJB Hotels & Leisure Property acted for Cordatus. Heywood & Partners acted for the vendor.
December 2017 Review
It's been buoyant year in the UK corporate hotels sector, the mainstay of the NJBHLP business, having advised on acquisitions and disposals of hotels on both the business transfer and the investments sides of property, with some confidential consultancy projects as well. Publicity is not always permitted, but where it is, there are snippets below. If it's a hotel in the UK, with a brand (or potential), NJBHLP can probably help; as the year closes, institutional grade hotel investments are in the greatest demand (if you know of any available?).
A less successful year running wise! Never fit enough to take on a marathon in 2017, I felt quite good for about 12 hours post the excellent 'Leek' in August, a tough and scenic road half marathon that climbs some 1200 ft and in to the Peak District National Park. Unable to walk the following day, I have learned a lot about 'miniscus' and 'bursa' since!
So best feet forward to 2018, and with good wishes to all.
Acquired August 2017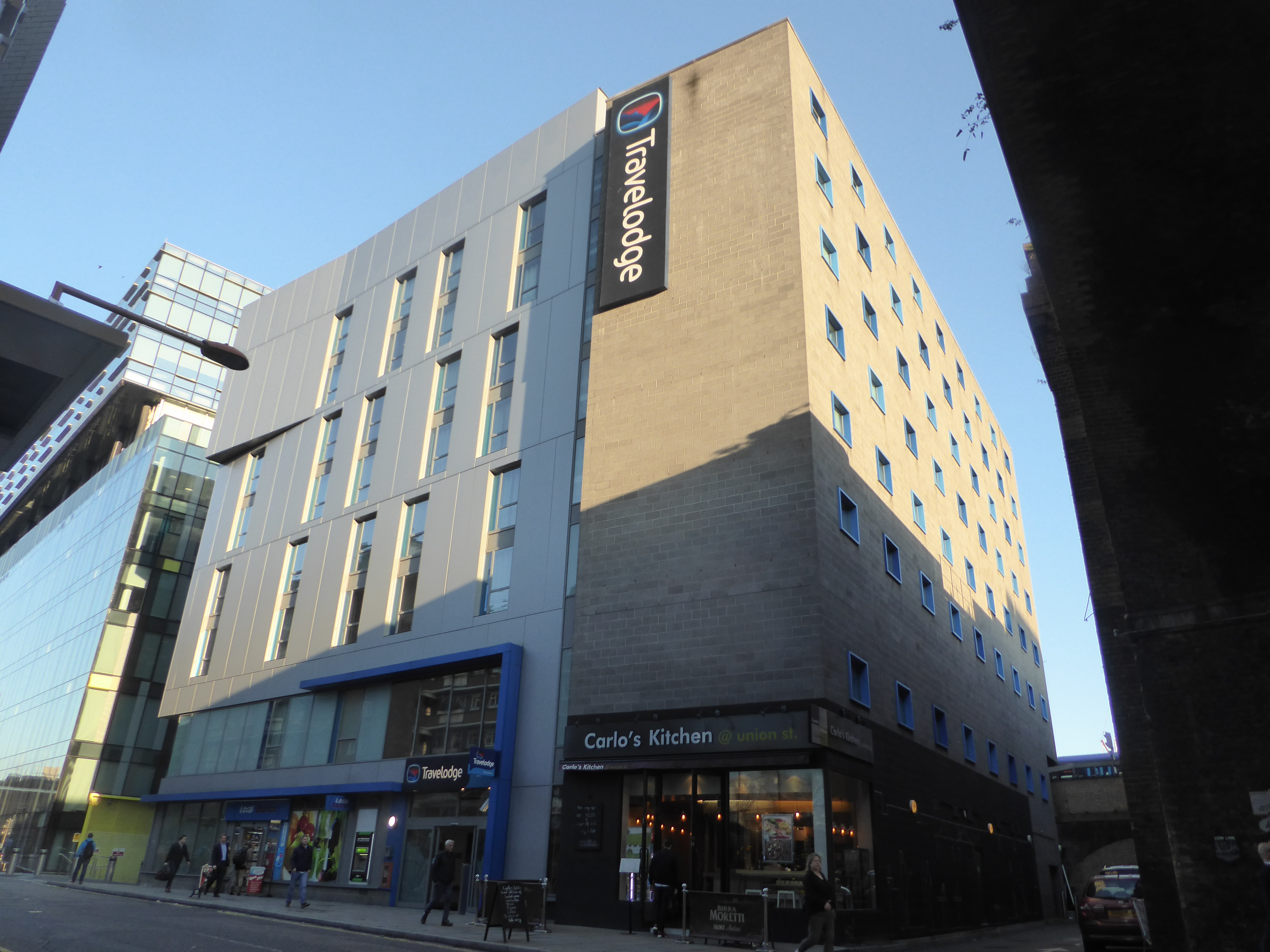 Travelodge London Central Southwark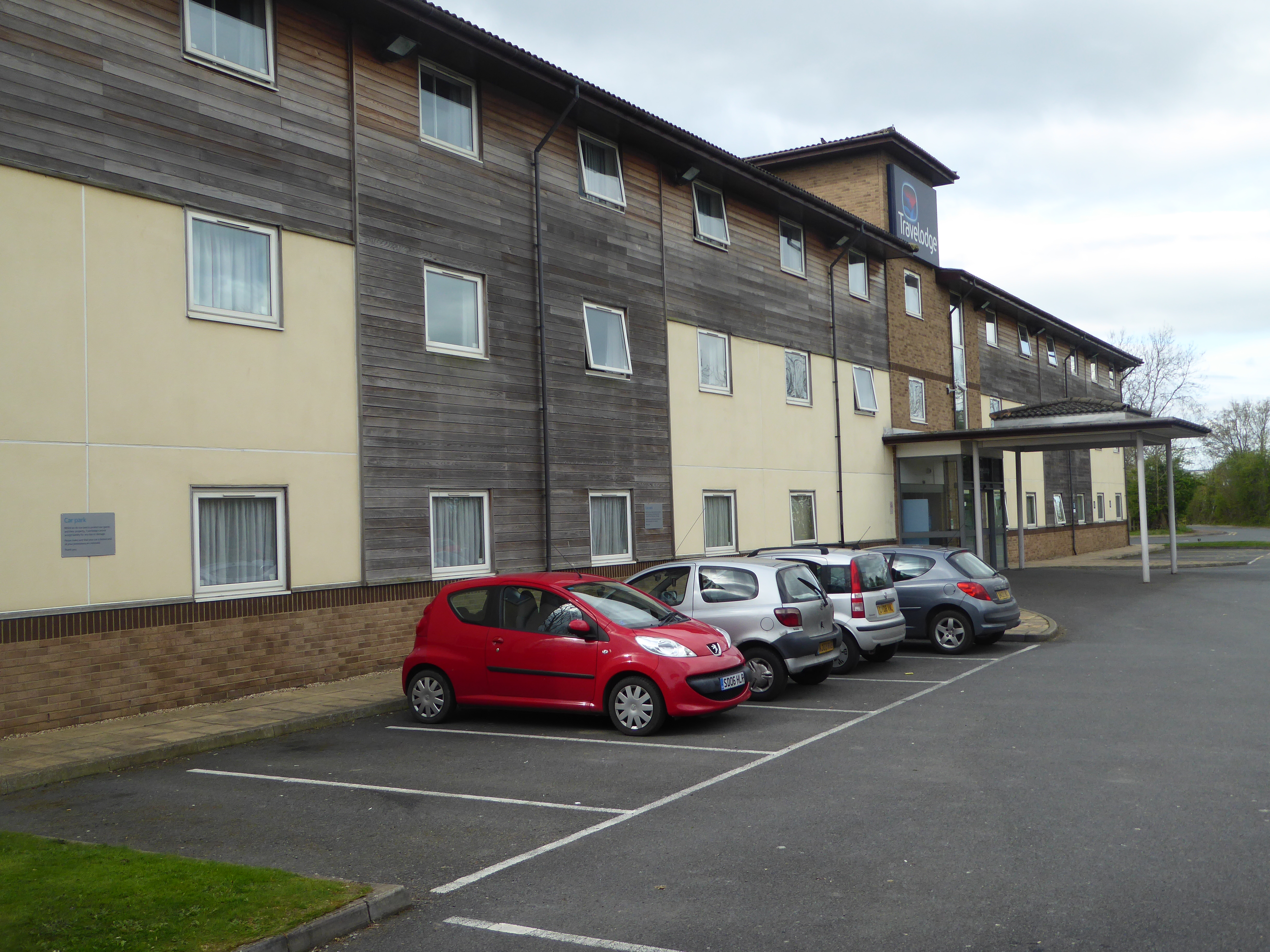 Travelodge Tewkesbury
TWO TRAVELODGE ACQUISITIONS IN AUGUST, WITH A 1,000% PRICING DIFFERENTIAL!
NJBHLP was joint advisor on two entirely separate acquisitions of hotel investments let to Travelodge, yet covering most of the pricing spectrum, with a smaller provincial lot guiding at just under £4.7 million and a more substantial central London asset quoting over £47 million.
TRAVELODGE LONDON CENTRAL SOUTHWARK, SE1 0LX
A 202 bedroom budget hotel led investment in a vibrant, prominent and well-connected central London location, with long income and beneficial rent review alternatives, NJBHLP was joint advisor to Lothbury Investment Management in a highly competitive marketplace transaction.
TRAVELODGE TEWKESBURY, GL20 8ND
A busy and successful 71 bedroom Travelodge operation, with trade from both the historic market town and a key M5 motorway exit, acquired effectively off-market, NJHLP jointly advising Cordatus Real Estate.
Sold May 2017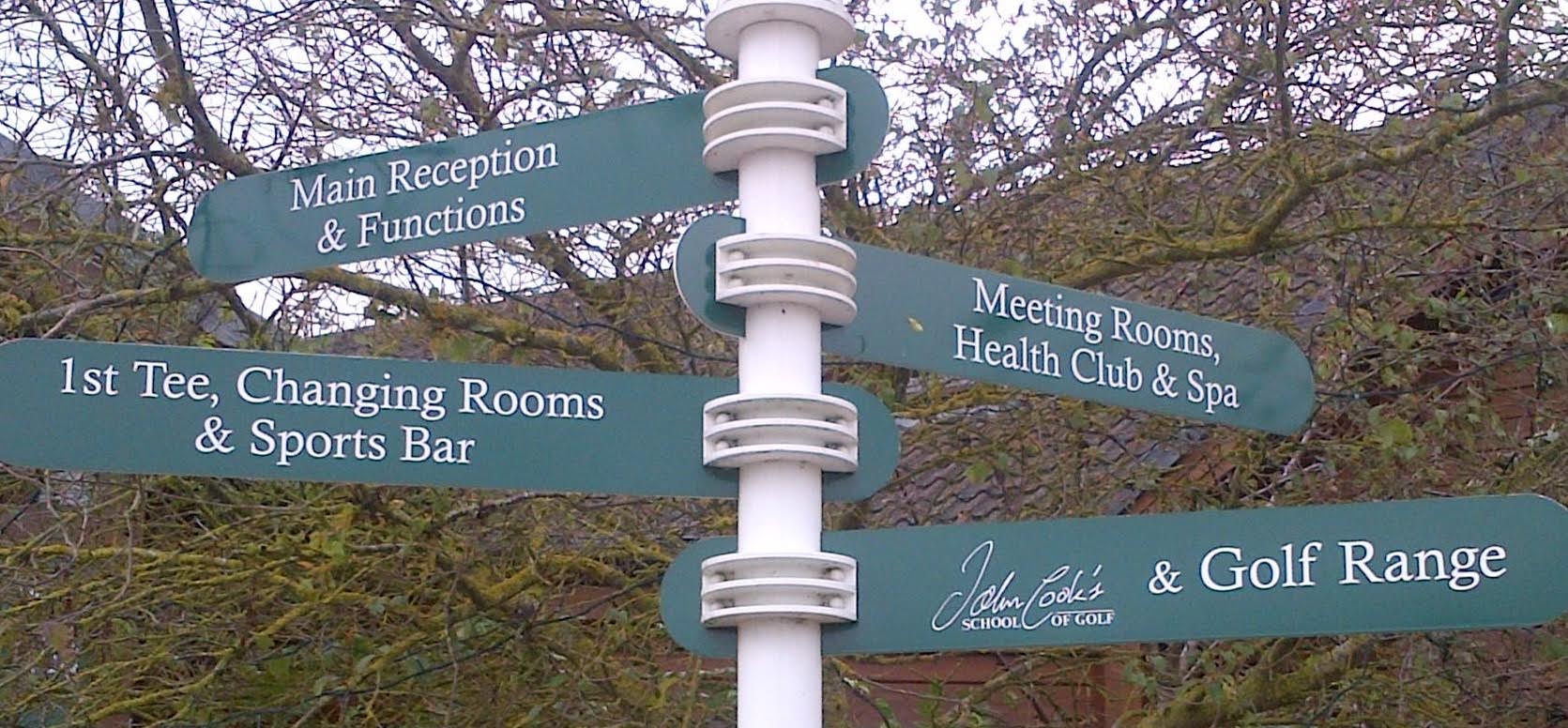 WITNEY LAKES RESORT
NJBHLP has acted for the vendors in the business sale of Oxfordshire's Witney Lakes Resort to The Club Company.
Located on the edge of the Cotswolds, Witney Lakes Resort opened in 1993. Health & Fitness facilities and a Spa were added in 1999. The complex has a stunning 18 hole Lakeland-style golf course, state-of- the-art leisure facilities including a gym, studio, swimming pool, steam room and sauna, as well as a spa and health and beauty treatment rooms.
One of the reasons that specialist Nick Barber of NJBHLP was brought in to advise the vendors in the sale is the site also has protected planning permission for an 86-bedroom hotel.
Commenting on the acquisition, Thierry Delsol, Chief Executive of The Club Company, said: "We are delighted to announce the purchase of Witney Lakes Resort. This acquisition fits perfectly with our expansion strategy, in pursuing organic and external growth. We are really excited about the acquisition and are looking forward to working with the team and the members there".
With the acquisition of Witney Lakes Resort, The Club Company now has 13 clubs in its portfolio, all located around the UK.
www.witney-lakes.co.uk
www.theclubcompany.com
Acquired April 2017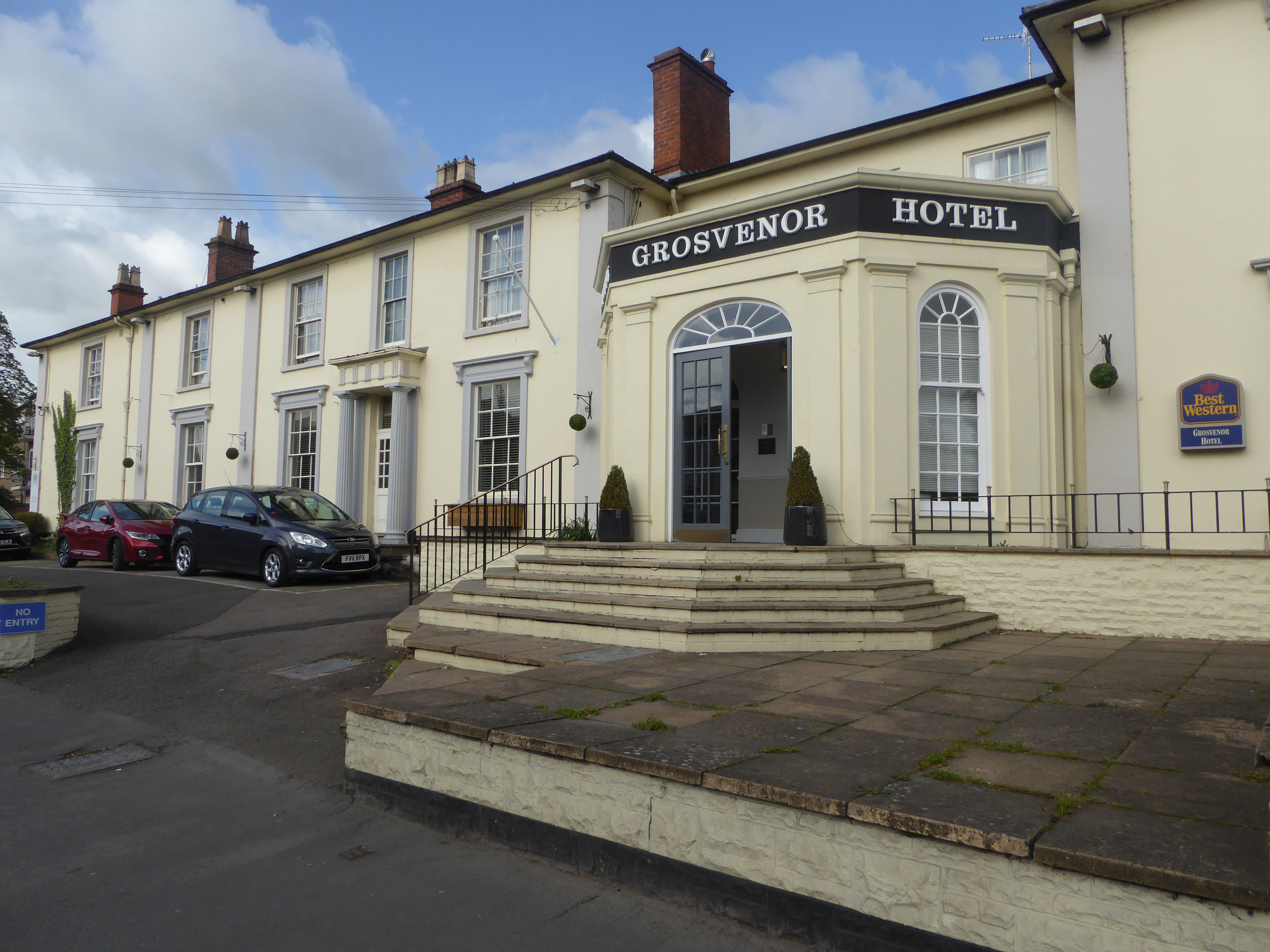 JLL sells Best Western Grosvenor Hotel in Stratford-upon-Avon
Sold to Bright Hotels Limited
LONDON, April 2017 – JLL's Hotels & Hospitality Group has sold the Best Western Grosvenor Hotel in Stratford-upon-Avon to Bright Hotels Limited for an undisclosed sum.
The property is a Grade II listed building comprising 73 en-suite guest bedrooms, five meeting and conference rooms, a restaurant with lounge, bar and drawing room and onsite parking for 50 vehicles. The hotel is a short walk from Stratford-upon-Avon's town centre, a renowned tourist area, which attracts in the region of five million visitors per annum.
Gavin Wright, Director, JLL's Hotels & Hospitality Group said: "We received significant interest in this asset due to its sought-after location. Since the property came to the market we conducted numerous viewings and received multiple bids.
We are delighted to have secured a sale with an investor who is keen to invest and refurbish the property. This acquisition will be the third hotel under the ownership of Indi Johal and we are sure he will enjoy great success with this property"
Bright Hotels Limited was represented by Nick Barber from NJB Hotels & Leisure Property.
Sold March 2017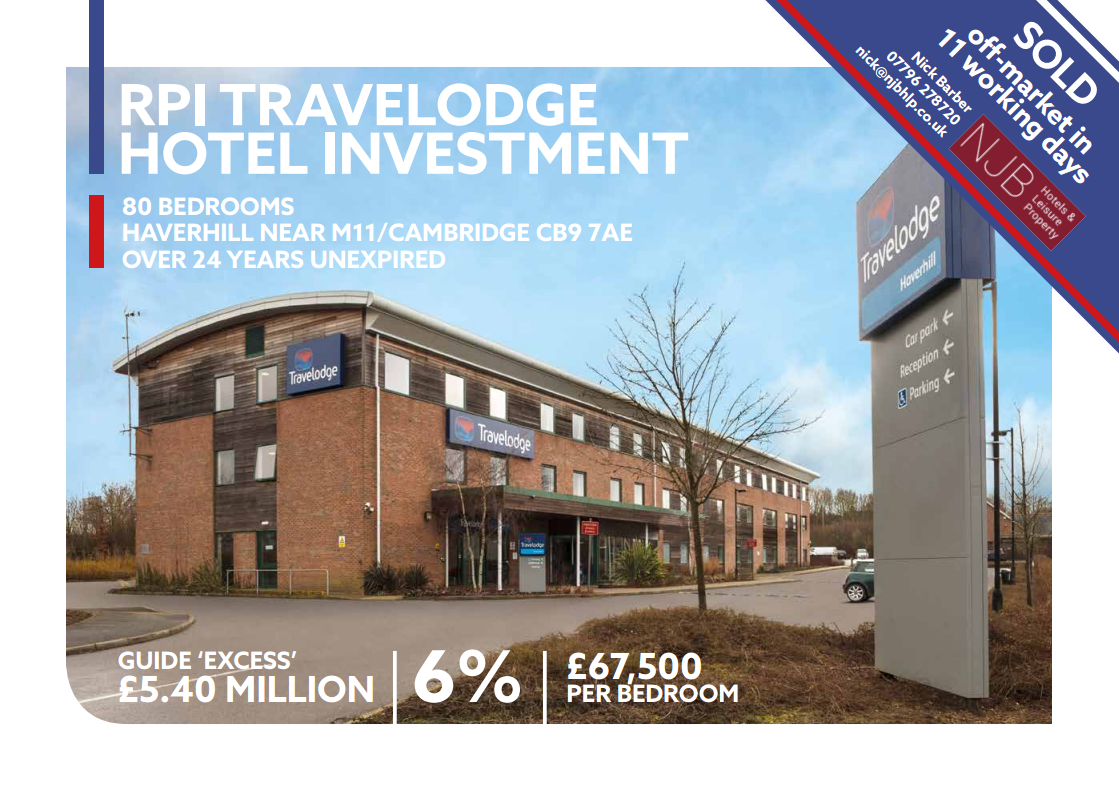 JANUARY 2017 NEWS
The 'Brexit' vote in June caused the market to catch its breath, before owners and investors in UK corporate hotels – the mainstay of NJBHLP's business – noted that factors such as 'staycations' and inward investment into Britain were contributing to make the UK hotels sector, already in its fourth (possibly fifth) consecutive year of growth, an attractive place in which to do business:
2016 was also the fifth year of trading for NJBHLP, which we marked with a brand re-fresh, replacing our original blue & red scheme with 'team colours' in claret, together with updated logos.
ACQUISITION OF TRAVELODGE MAIDENHEAD CENTRAL HOTEL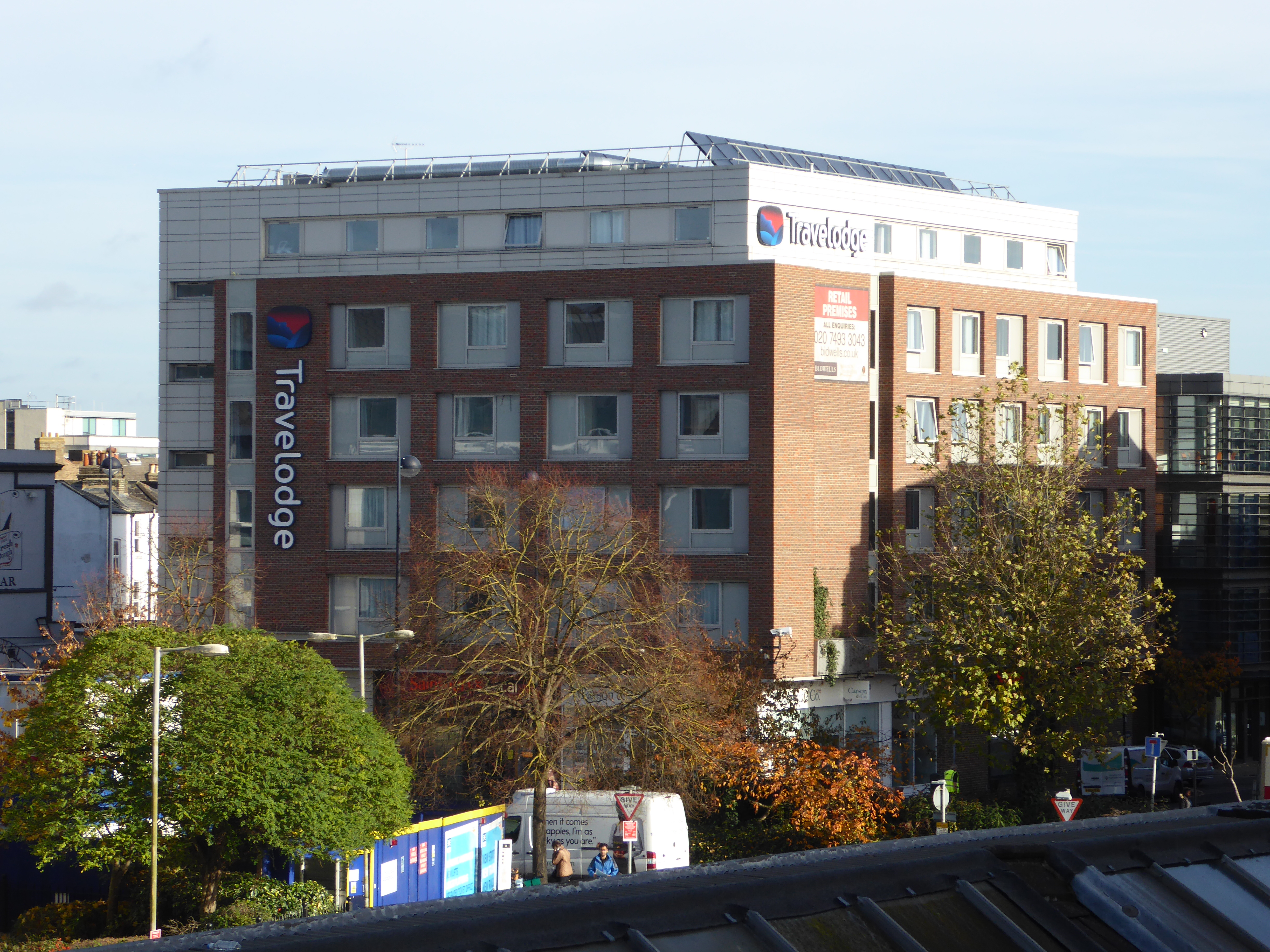 Travelodge went from strength to strength during 2016, finishing the year with a new and refurbished estate of 538 UK hotels and over 40,000 bedrooms, and a 'That's Travelodgical' TV advertising campaign ringing in the sector's ears. These and other factors contributed to making Travelodge hotels an increasingly attractive institutional investment, and for which NJBHLP acted jointly in the acquisition of the 96 bedroom Travelodge Central in Maidenhead, for pension fund clients of DTZ Investors.
Comments Nick Barber of NJBHLP, "Not for nothing is this Travelodge named 'Maidenhead Central', for the key factor here is location, the hotel being situated immediately opposite Maidenhead railway station, where Crossrail is an imminent addition to a long established and busy junction on the Paddington to Reading mainline. (For proximity, my photo below was taken from a station platform). Add a prosperous town in Maidenhead, relatively limited competition and superb motorway links, making this both a highly successful 'central' hotel and an attractive property investment".
CONFIDENTIAL ACQUISITION OF MARKET LEADING BOURNEMOUTH HOTEL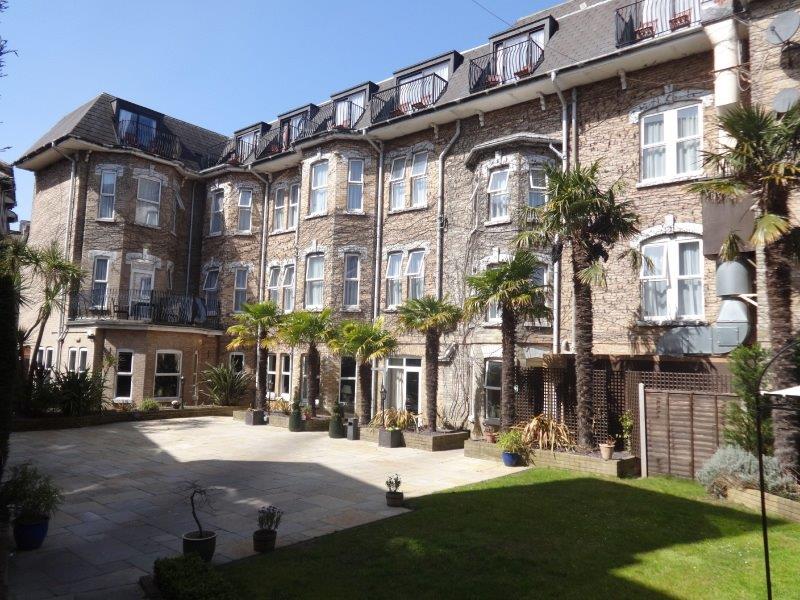 NJBHLP acted 'off-market' in the 2016 acquisition of the hotel & spa regularly ranked as no. 1 in Bournemouth on Trip Advisor, the 80 bedroom, 4 star, 'Best Western Plus, The Connaught Hotel'.
Nick Barber was aware in 2016 that Bournemouth's Connaught Hotel was available to purchase - with absolute discretion - and he held a concurrent private clients' search requirement for a corporate hotel located south of the M4 motorway, to add to an existing portfolio. Nick was able to match NJBHLP's acquisition client with The Connaught's owner and advisor, before going on to negotiate the transfer of the business.
Comments Nick Barber, "Off-market deals such as this can be attractive to both owners and buyers, particularly when considering the continuing operation of the hotel business throughout the process, so it was particularly pleasing here that the market knew nothing of this deal until after completion.
JANUARY 2016 NEWS
YHA Brighton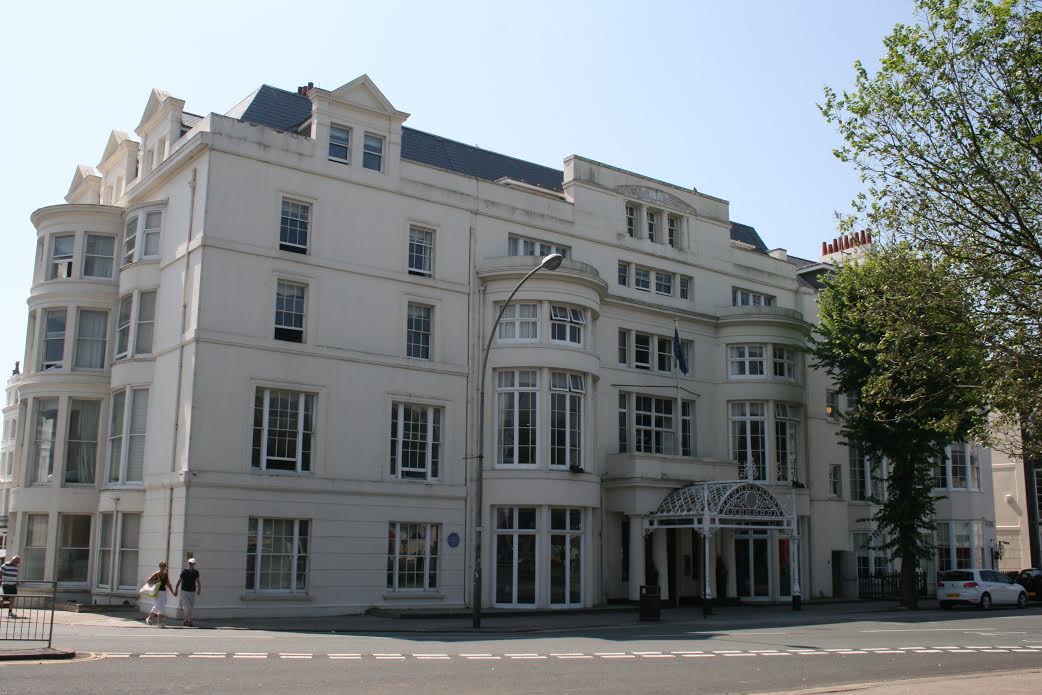 A varied and interesting 2015 was capped off when NJBHLP secured the opportunity for the Youth Hostels Association (YHA England & Wales) to acquire the virtual freehold interest of YHA Brighton, which completed in December.
This stage concluded the YHA acquisition journey for the property, which began in 2012 when Nick Barber identified the former Royal York Hotel, then in Administration, as ideal in terms of size and location for conversion to a Youth Hostel. The initial deals (reported in Spring 2014 News below) were for acquisition by Development Securities and leasing of the hotel elements to YHA; following a successful partnership and refurbishment of the residential parts by the owner (now known as U and I Group plc), YHA was able to buy in the long leasehold interest from its landlord.
YHA is a renowned charitable organisation founded in 1930, "To help all, especially young people of limited means…. by providing hostels or other simple accommodation for them in their travels….." NJBHLP is retained by YHA in its search for central properties in key destination cities.
Jurys Inn Exeter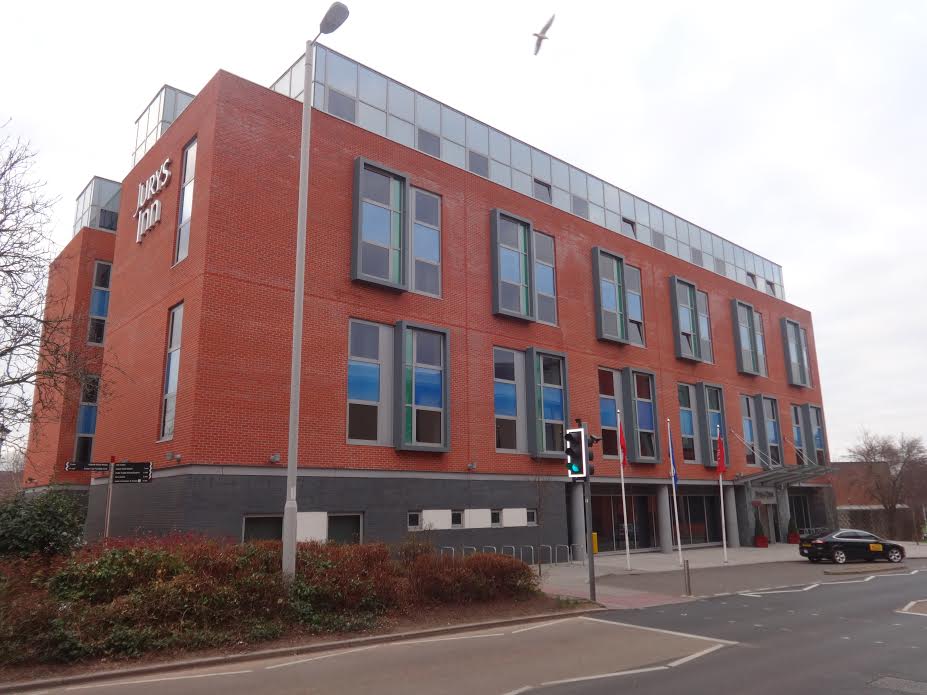 NJBHLP was joint advisor to LaSalle Investment Management's coal industry funds in the acquisition of this 170 bedroom, freehold Exeter hotel investment, let to UK wide (and international) mid-market operator, Jurys Inn, acquired from developer McAleer & Rushe in July.
During 2015 we saw six UK Jurys Inns offered to the market and for which individual yields sharpened significantly as the year progressed. We think this was due in part to continuing confidence in the hotels sector but also through the active asset management of its hotel estates by Jurys Inn owner, Amaris Hospitality. This saw a number of long established and highly regarded city properties re-branded to Jurys Inn - examples being the former Parc Hotel in Cardiff and the Oxford Hotel – thereby enhancing the brand presence of Jurys Inn in the UK.
Hotel Viability
A three day diversion in November 2015 was provided by a Planning Inquiry which concerned the future of a hotel located in a highly attractive Kent town. Our news here is necessarily limited, due to confidentiality of the case – please contact Nick Barber for further details regarding preparation of Hotel Viability Reports as part of the planning permission process.
Travelodge London Walthamstow Hotel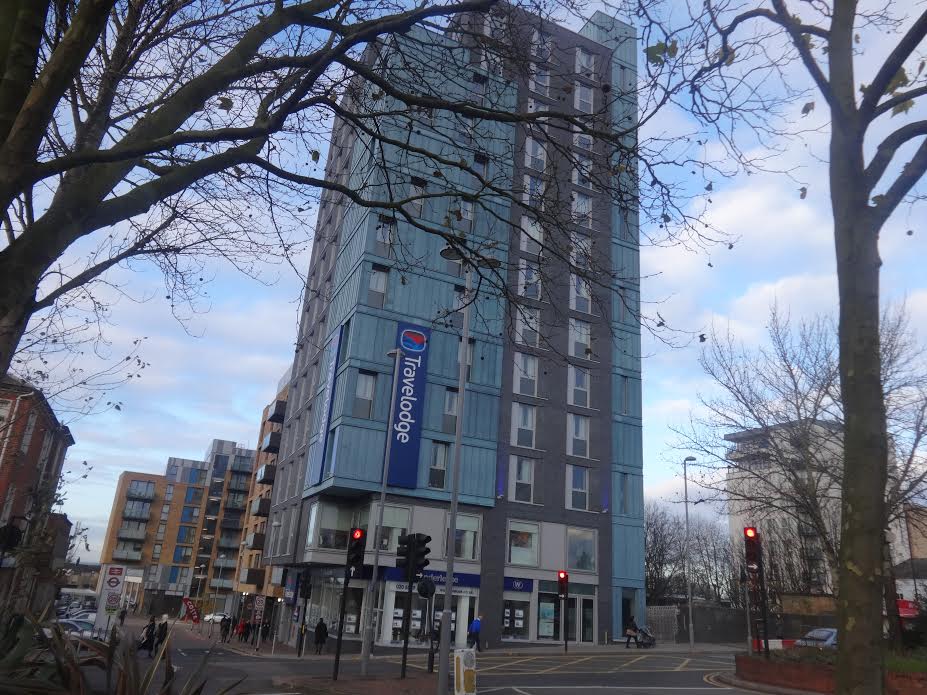 Having prepared a draft news item for this investment acquisition by LaSalle Investment Management (LIM) sometime previously, we are pleased to announce completion of the purchase within our news for 2015, terms for this forward purchase having been first agreed in 2013! However, a highly visible, new build hotel in a key but challenging location construction wise, being immediately adjacent the London Overground railway lines and Walthamstow Central station, meant a longer completion than originally envisaged.
NJBHLP was joint acquisition advisor for this 107 bedroom Travelodge hotel, which completed in June.
JANUARY 2015 NEWS
Market news from within the public domain from the second half of 2014
TRAVELODGE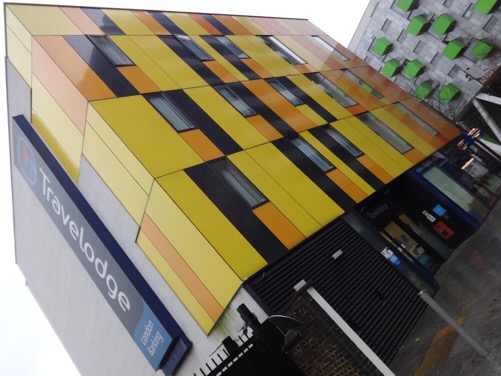 Travelodge London Barking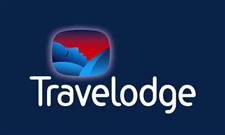 NJBHLP were delighted to welcome Travelodge as a new client in 2014, when we were asked to advise on airport hotel options, ahead of this year's Airports Commission recommendation to the Government, on where a new runway for London and the south east should be built.
We also continue to work closely with Travelodge's development team in connection with pension fund acquisitions of Travelodge hotel investments. Following the purchase of Travelodge Hemel Hempstead Gateway (Spring 2014 News above) NJBHLP were joint advisors to LaSalle Investment Management in the July 2014 acquisition of the Travelodge London Barking, upon behalf of the Royal Mail Pension Fund. The 66 bedroom hotel in the heart of Barking town centre is an iconic and highly visible property, with its multi-coloured cladding.
Travelodge is one of the largest hotel operators in the UK, with 501 hotels and 37,048 bedrooms (at December 2014). The Barking property is one of 58 Travelodge hotels in London.
YHA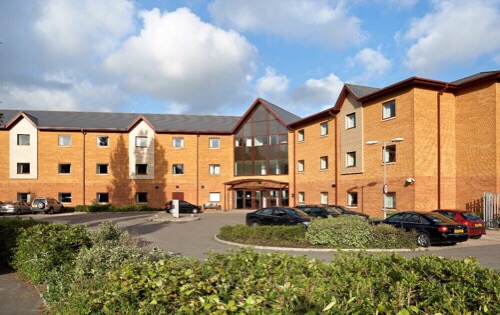 Mercure Cardiff Centre Hotel prior to conversion to YHA Cardiff Central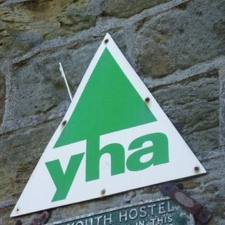 As the retained advisor to the Youth Hostels Association (England & Wales) for its acquisitions drive in key UK provincial cities, NJBHLP were involved in another success in 2014, when YHA purchased the 100 bedroom Mercure Cardiff Centre Hotel. The property is currently being re-fitted as a Youth Hostel and will open as 'YHA Cardiff Central' in March 2015.
The Cardiff acquisition follows that of YHA Brighton (Spring 2014 News above) in being a conversion of a full service hotel; indeed both Cardiff, as a 'Mercure' and Brighton, once a 'Radisson SAS', had enjoyed international brand affiliation.
Comments Nick Barber, proprietor of NJBHLP, "We have talked in detail with the YHA Estates team, and whilst location is the key driver in all target cities, we are finding again and again that an existing hotel is the most economic model for YHA. And in both Brighton and Cardiff, the quality of the previous hotel brand has enabled YHA to offer its guests premium 'poshtel' accommodation, as well as the traditional Youth Hostel dormitory."
PS: And NJBHLP also introduced MOR Lodge in Newquay, Cornwall to YHA, which led to this independent hostel joining YHA Enterprise in 2014, providing access to YHA's reservations systems.
IBIS BUDGET MANCHESTER SALFORD QUAYS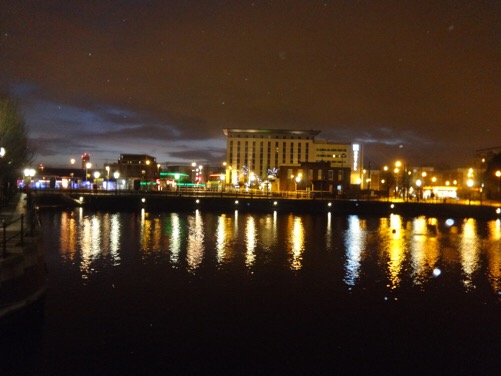 Ibis Budget Manchester Salford Quays (from St Peter Basin)
NJBHLP jointly brokered the 'off-market' acquisition of this 210 budget hotel in the vibrant Media City area of Manchester by a division of BP Pension Fund, which completed in October 2014. The hotel enjoys a prominent position fronting Trafford Road and close to such attractions as Manchester United, the Lowry Centre and the Imperial War Musuem, as well as the BBC and other Media City occupiers.
Comments Nick Barber, "The Ibis Budget Salford Quays was a tricky acquisition property wise, with various Titles and consents required, but the strictly confidential nature of the deal agreed between the parties gave us all the time to see it through. I believe that it was only because we had been able to agree these terms 'off-market' that enabled the deal to happen."
The acquisition was reported by Costar on 13th November 2014 and published in the property press.
SPRING 2014 NEWS
A busy time for NJB Hotels & Leisure Property with key deals in acquisitions, portfolio bidding and site-locations...
FROM HOTEL TO YOUTH HOSTEL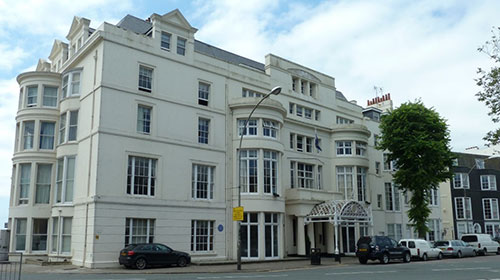 Brighton Youth Hostel (Royal York Hotel) with sea to rear
Weary budget travellers will be putting their heads down in a distinctly upmarket location when they stay at the new Brighton Youth Hostel this summer.
Thanks to a creative recommendation from adviser Nick Barber, the Youth Hostels Association (YHA) will now be operating from a central Brighton location, converting the 51-bed former Royal York Hotel to a 200-bed youth hostel.
"We identified the Royal York as the perfect Brighton location for YHA because it was a highly visible building close to the seafront and pier, with excellent transport links nearby. It was also the right size to convert to a 200-bed hostel," said Nick Barber, owner of NJB Hotels & Leisure Property.
Originally opened as a boutique hotel, the Royal York was trading recently under the four-star 'Radisson Blu' brand.
In a two-stage transaction overseen by NJB, the complete building was acquired by Development Securities in February 2014, with the core hotel property being leased to YHA (England & Wales) on institutional terms.
It opens as the newly-refurbished Brighton Youth Hostel in summer 2014.
NJB is the retained adviser to the YHA in their search for hostel premises in key UK provincial cities, with a specific brief to find central sites for conversion to state-of-the-art youth hostels. The new Brighton hostel meets this brief as previously the YHA operated on the outskirts of the city, at Patcham.
"Here at NJB we feel this represents a real find upon behalf of YHA and we are excited to have fulfilled the brief so thoroughly. This deal brings value to both partners and looking to the future, to YHA guests as well," said Nick Barber.
To stay at Brighton Youth Hostel go to: www.yha.org.uk
A WIZARD INVESTMENT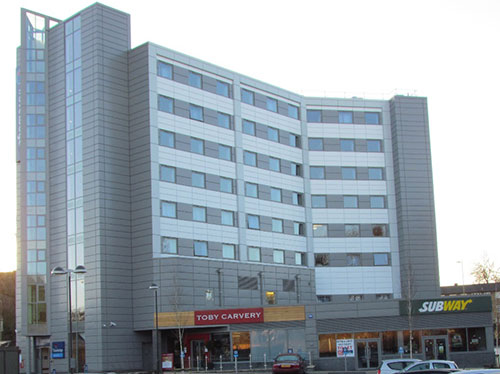 Location, location, location is set to pay dividends for this pension fund investment in a Travelodge with great transport links, made following advice from NJB.
Strategically located directly off Junction 8 of the M1 - and just seven miles from the Harry Potter World attraction - the Travelodge Hemel Hempstead Gateway is a newly built 108-bed hotel opened in 2012 and now owned by the Mineworkers Pension Fund.
NJB acted for LaSalle Investment Management, who made the purchase on behalf of the fund, with Nick Barber providing hotel competitor set analysis alongside operational and rental advice.
The hotel, an imposing tower structure, is leased by Travelodge and the investment is complemented by a Toby Carvery pub and food retail units.
Boosting the value of the location to investors is its appeal to both business traveller and tourist markets, according to Nick Barber.
The M25 is in close proximity, Luton Airport is a short drive away and there are also excellent public transport links on top of the wizard Harry Potter connection at Warner Bros. Studios in nearby Leavesden.
"At acquisition, Travelodge were reporting very high occupancy levels in only Year Two trading, supporting the pension fund purchase of this impressive property and accessible location," said NJB's Nick Barber. "This investment with its combination of pragmatic business custom alongside guests brought in by local attractions should prove magical."