December 2020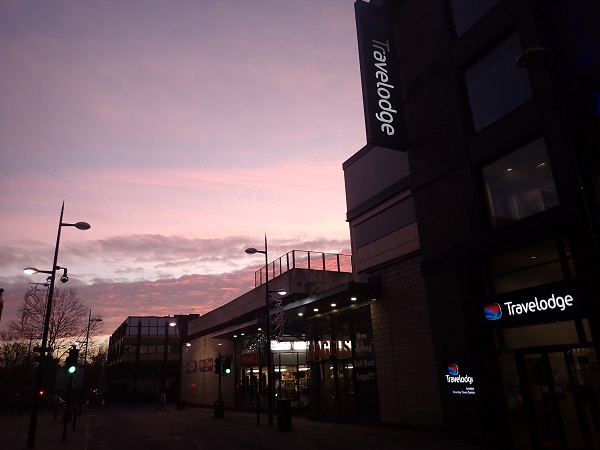 TRAVELODGE AND THE ABC OF 2020
The Travelodge CVA, approved on 19 th June, in which all 564 hotels within the Travelodge UK estate were categorised by the operator as 'A', 'B' or 'C', provided NJBHLP with a busy workstream across the summer.
In a nutshell, the effects for owners of these ABC gradings were: for 'A' (terms effectively 'as now'), 'B' (reduced rents to landlords during 2020 and 2021) and 'C' (nil rents for the same compromised period). The vast majority of hotels received a 'B' grading, which gave landlord owners a period of five months (until 18 th November), to decide whether to remain with Travelodge or to serve a Notice to Vacate. In turn, this opened a window for alternative operators, both established hoteliers and 'newcos', to step forward with their leasing or management proposals and their new or replacement flags, for consideration. A good number did so.
Fast forward to the end of November and Travelodge announced that some 17 hotels, totalling around 3000 bedrooms, would be leaving; during the CVA period, NJBHLP worked with landlords of a different but coincidental total of 17 hotels and 3000 bedrooms, in appraising the alternatives.
This was really interesting work, covering about 3% of the Travelodge estate. Established, serious and credible operators put forward a mixture of fixed and turnover leases, hybrids and management contracts, some backed by international franchisors. Travelodge meanwhile issued information packs, Q&As and even a streamed landlords call, all presenting the benefits of remaining. NJBHLP research and advice extended across institutional investor, local authority and property company clients, with assets as far afield as central Scotland and Wales, the east coast and the London commuter belt, with inspections nationwide (when permitted to travel).
The 'B' outcome is that Travelodge has retained its substantial estate, although perhaps the most interesting development so far is the launch of Ago Hotels (www.agohotels.co.uk), a new operator starting out with an initial nine hotels from Travelodge, backed by Accor for rebranding to Ibis Budget – the dawn shown is a December morning outside the Bromley Town Centre hotel.
The ABC deliberation will also continue into the new year, for landlord owners of the 37 Travelodge hotels categorised as 'C' have a longer period, until the end of 2021, to make the same stay or go decision. More regarding these in due course.
Nick Barber
07796 278720
nick@njbhlp.co.uk
March 2020
NJBHLP CORONOVIRUS UPDATE
What a month! One plan for 2020 was (is?) to try and improve at fell running, at which my experience is limited, my excuse being that I live in Kent. In week one of March, I was particularly pleased that, having entered the category 'A', Black Combe Fell Race in the Lake District, along came a dovetail inspection of a really interesting hotel in Liverpool, with a unique and highly successful leisure offer. It is great when business and leisure trips work together like this; and through the mists of the SW corner of the Lakes I viewed my time of 1:59:16 as comfortably within an 'under two hours' target!
Week two and Coronavirus awareness is beginning to increase, but no apparent change to active or pipeline hotels business and much of sport is still operating. On the Saturday morning I was one of 570 in the Bromley Parkrun and in the afternoon, as I like to support my hometown (Chelmsford) football club, in local matches at least, a short trip to Dartford. There is now a lot in the press about the parlous state of sports teams' finances and I wonder how many will survive Coronavirus? Chelmsford City FC are actually very experienced in survival, for it is nearly 50 years since a well- known residential developer - later knighted - got on to the Board, so the splendid town (now city) centre ground has long gone and the club has never really recovered financially. But is still playing. I believe that the old Dartford FC venue also fell victim to a property developer, but there the local Council built a fine new stadium and they look a well-run club, so it is pleasing that this is a place where 'Chelmo' always seem to do well. Dartford win 3-0.
The third week is when it begins to bite. The core of NJBHLP business is transactional, whether hotel investments or trading businesses, and all reacted abruptly. I have one acquisitions case where each principal is a regional hotel group, and both concluded very quickly that survival of their existing owned estates must be the priority, so we agreed to put everything 'on hold'. The goodwill and the intent are there; it will depend on where the parties are when the hotel and the lending markets re-open. The one positive in this week was the call asking if I knew of any hoteliers who might want to contract beds with Government providers, most notably for the NHS? I did as much work as I could on this, putting parties together.
Week four and I am home, adjusting. I am grateful that a couple of consultancy assignments are still running. On the Thursday I learn that I am one of over a million people today left out of HMG support provisions, which I had understood were being implemented precisely because of the requirement to stay home. Of course there are many, many others in situations more challenged than mine, but it was the sheer hypocrisy of the Chancellor that incensed me, and I think, therefore, it worth pasting his very words, spoken just prior to the 'shut-out', here: "To you, I say this: You have not been forgotten. We will not let you behind. We are all in this together".
Going forward, NJBHLP is still open, for phone and desktop business; if I can help you I will, and on a goodwill basis where appropriate, so do please continue to contact me at any time. Two hotel acquisition searches, currently mothballed, but which I expect to be active as soon as we can travel again, are in Brighton & Hove and Snowdonia, so if you know or hear of anything relevant, please get in touch.
Best wishes to all; more hopefully to follow.
Nick Barber
07796 278720
nick@njbhlp.co.uk
January 2020
2019 END OF TERM HOTELS REPORT
Hotels snippets for end of year are published slightly early in 2019, ahead of the election.
Planning applications and permissions granted continue to fill a substantial proportion of my daily hotel 'newswire'. This is unsurprising statistically, with a substantial UK development pipeline of around 235,000 bedrooms, a prospective addition of one third to present day stock.
But on an individual basis, the ability for a hotel development to 'stack up' is becoming ever harder, particularly as build costs increase. Taking a traditional leasehold budget hotel as a model, it is now difficult to see a rent of below £5000 per bedroom working, which itself can be hard to achieve outside major towns & cities and the south east, without additional 'support'. Maybe public sector involvement or mixed-use schemes with a hotel element? Former department stores seem in vogue in 2019 in this regard. Or developers and investors able to find a means of taking on the operational risk of a branded management contract or franchise? Hotel pricing also has extremes. At the corporate top end a ground rental 'layer' may now be deemed necessary just to make a deal work; elsewhere, 'second hand' bedrooms can be far cheaper to buy than new build. Overall, however, demand for good hotel assets with core property fundamentals remains strong.
Most amusing story of the year was the Travelodge survey telling us that five nights per month away from home (in a Travelodge presumably) is the ideal number to sustain a happy marriage. I noted there was no comment from the publishers concerning sleeper ratios in the context of room occupancy.
Something may be working here, however, for Travelodge reported a 78.5% occupancy in its results for the calendar year 2018, surpassing Premier Inn at 77.9% in the Whitbread year to February 2019.
Despite such robust numbers and continuing investor demand, transactions have been hard work in 2019, in a far less liquid market than earlier 'teen' years. Undoubtedly this has been exacerbated following the Grenfell tragedy and hotels with cladding are now understandably subject to the most detailed scrutiny, with many simply not acceptable to institutions. Expect this month's hotel fire in Brentford to maintain such focus.
On a personal note, and with all this market created free time, I completed three marathons in 2019, where better training resulted in an improved performance in each. In the second, the Arctic Circle's 'Midnight Sun Marathon', which started at 8.30pm on a Saturday night in June, I achieved the dubious distinction of being the first finisher to take two days to complete the course! I also find running round town centres and locations visited on business helpful for 'hotels knowledge', in pursuance of the NJBHLP mantra, 'corporate hotel property advice, UK nationwide'.
So best feet forward and good wishes for New Year and a new decade.
Nick Barber
07796 278720
nick@njbhlp.co.uk